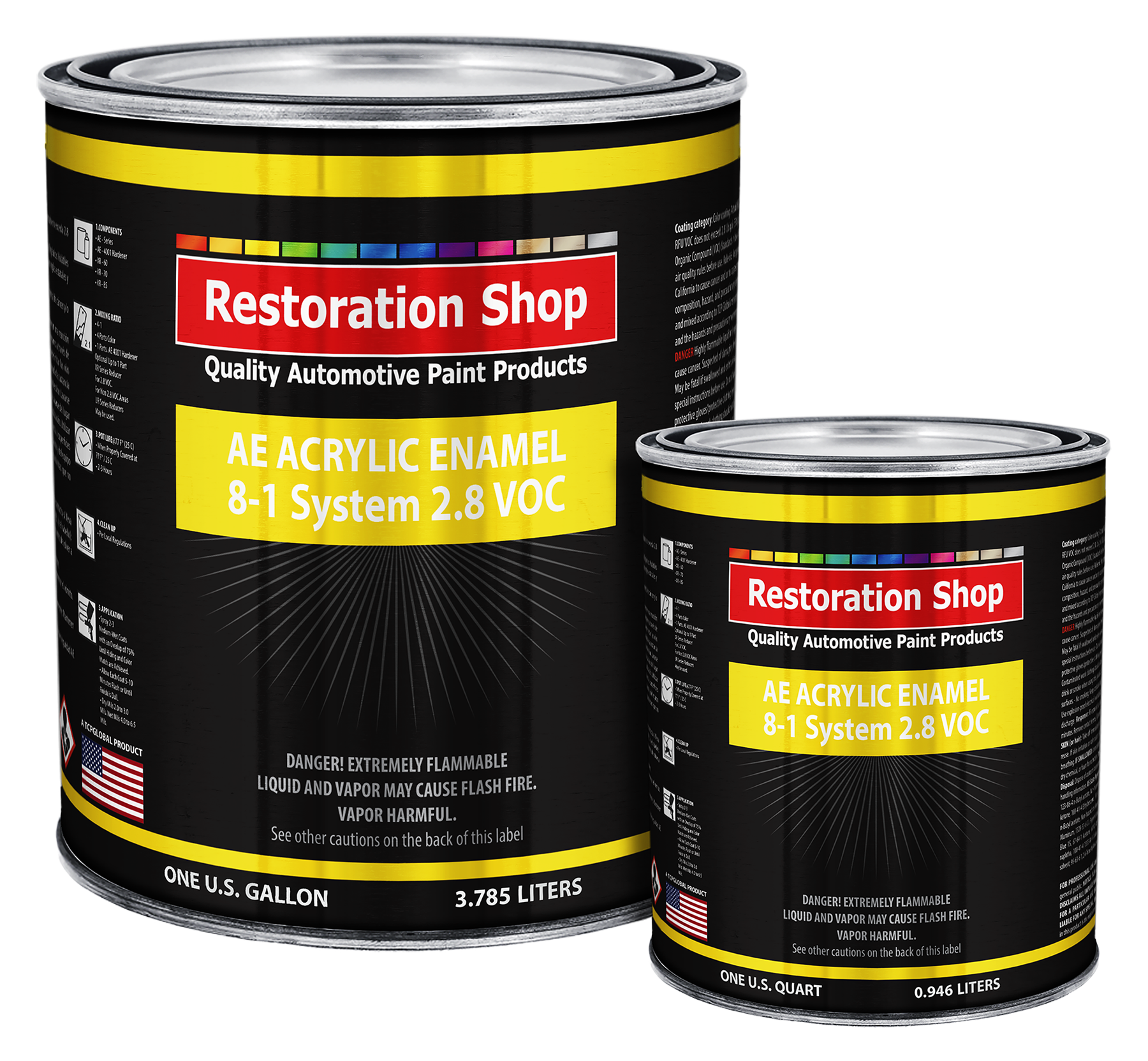 AE - ACRYLIC ENAMEL SYSTEM
Restoration Shop (AE) Acrylic Enamel Paint System
AE is a Professional Easy-To-Use Single-Stage High Gloss Paint Coating System that is Designed for Overall Automotive Refinishing but is also used as a Fleet and Industrial Equipment Coating. AE is an easy to spray fast-drying topcoat system that provides a long-lasting and very high gloss finish result. AE is a very durable, chemical and solvent resistant coating that also resists chipping, cracking, and UV ray fading.
AE has an 8 to 1 mixing ratio, 8 parts AE Paint Color to 1 part AE3001 Wet Look Acrylic Hardener.
AE is 2.8 VOC when used as packaged, as no reducer is required (optional reducer sold separately). The optional additional reducer may be added at a rate of up to 1 quart per gallon if desired. Use XR Series Exempt Reducers to maintain a 2.8 VOC Level or use the UR Series Urethane Reducers for a 3.5 VOC Level.
Optional Reducers Available Separately
XR Series Exempt Reducers to Maintain a 2.8 VOC Level: XR60 Exempt Fast Reducer 60-70° F; XR70 Exempt Medium Reducer 70-85° F; XR85 Exempt Slow Reducer 85° F and above UR Series Urethane Reducers for a 3.5 VOC Level: UR60 Fast Reducer 60-70° F; UR70 Medium Reducer 70-85° F; UR85 Slow Reducer 85° F and above
The Restoration Shop color chips on this page are designed and named after popular color names and NOT TO BE CONFUSED WITH ANY O.E.M MANUFACTURES COLOR CODES. If you would like the original color mixed to the manufactures color code for your vehicle, please visit our Auto Color Library website www.autocolorlibrary.com